What is Select Hockey?
Overview – What is Mimico Canadiesn Select Hockey?
The Select division of the MCHA provides an opportunity for House League players to participate in competitive, higher caliber hockey in the North York Hockey League (NYHL)
All House League players from a particular age group may try out for the Select team.
Teams are formed from the players who try out. Roster selection is up to the discretion of the Select team coaches and management. Team management may choose to designate some players as Alternate Players who can be called up to play games when regular players cannot attend games. Alternate players are entitled to attend practice.
Players who are invited to the Select team play on a House League team, as well as a Select team; therefore there are additional demands on players and parents.
All players who participate in Select hockey must also participate in house league games. Failure to do so will result in suspension from the Select team.
Teams play approximately 10 games in the fall season which runs from October through December. The NYHL balances the structure of the division tiers during December in an effort to make the tiers more competitive. Teams then play an additional 10 games before play offs begin in March.
Each year the NYHL features an All-Star Day, when selected players from each team in their tier are chosen to play for a Special All-Star team. They will also receive a medallion to mark their achievement.
Contact -For general inquiries regarding our Select program please contact us at select@mimicocanadiens.com
Tryouts -Select try-outs for the 2022/23 season will be held in late September and early October.
When – Schedules
The NYHL posts schedules on their web site
Team management will also advise parents of team schedules. Note that games can be posted with relatively short notice.
Games are played from Sunday through Friday. Game times can start from as early as 6:00pm to as late as 10:00pm, for the older divisions. Week end games typically start as early as 1:00pm and as late as 10:00pm.
Where – Arenas
NYHL games are played in arenas all over the GTA. Travel can involve a comfortable commute to the Downsview arena at Wilson and Jane to a well-planned journey to the Garnet Williams arena in Thornhill.
Arena locations can be found in various places: the NYHL website, Arenamaps.com or Google maps.
Practices are usually held at Mimico Arena
Benefits of Select Hockey
Participation on a Select team provides players:
• additional practice time,
• competition with Select teams from other organizations,
• the opportunity to play on a team with the same players year over year and develop long lasting friendships
Select Fees
Participation in Select requires a separate fee, in addition to house league fees.
Select fees are due in full when the team roster is chosen in October.
The fee for next season includes:
Practice ice time (one per week)
NHYL team fees
Jersey and one pair of socks per player
Team pictures
Sponsorship
We are always looking at ways to offset the expenses of running the Select program, one way is the sponsorship of your child's team. If you or someone you know is interested in sponsoring a team please speak to the coach or manager of your Select Team.

Gate Fees
The North York Hockey League charges a fee of $5.00 for each parent and player for each game played. Gate fees are waived for non-playing children under 12 years old. Senior citizens fee is $2.
When should I be at the Rink?
The NYHL reserves the right to start a game 10 minutes earlier than the posted start time, therefore you should ensure that you leave the house early enough to arrive at the rink at least 20 minutes prior to the posted start time.
NYHL Select -vs- GTHL A/AA
Select Hockey is governed by the North York Hockey League(NYHL) and A/AA/AAA is governed by the Greater Toronto Hockey League (GTHL).
The operations and competition structure for Select Hockey is very different than that of the GTHL. NYHL Select players also play House League with their local organization (Like MCHA). In the comparison below the costs of House League and Select are both included in the NYHL section.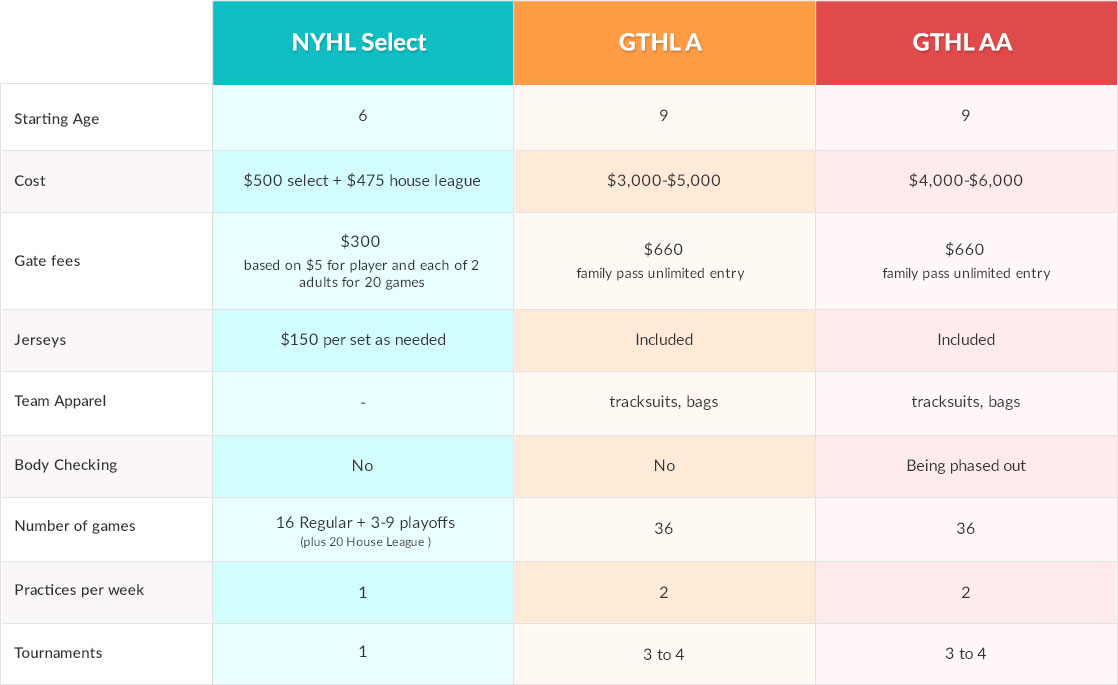 Cost over time
The following chart provides an illustration of cost comparison between NYHL Select and GTHL A/AA Hockey. The left most column (Select) is based on current pricing for Mimico Canadiens hockey. The A/AA pricing are benchmarks which may vary slightly from team to team. Many GTHL players play from 9-17 years old so we show an 8 year cost comparison.

Competition Level
In the NYHL, Select teams are "Tiered" with the most competitive teams playing "Tier 1". The number of Tiers vary from year to year based on the division but you may see 4 to 6 different Tiers. With the Tiered system, teams are more likely to be playing competitors of similar skill level. The NYHL sets Tiering in October of each season and then adjusts Tiering where needed in January. As teams improve, they will move up through the Tiering system.
In the GTHL, groups are divided by region (East vs West) without Tiering.
The chart provides a general illustration of common areas of "competition overlap" between NYHL Select and GTHL A/AA Hockey. In certain years the illustrated overlap may be slightly more or less but this provides a visual guide. GTHL AAA is where the most Elite hockey players play.

What Select Hockey Is All About
The "Sweet Spot" of Select Hockey
Many families find that Select Hockey represents the "Sweet Spot" in the competitive yet fun spectrum. Players get to participate in competitive hockey with their Select Teams but also get to play against their Select Friends (many of whom are neighbourhood or school friends) in House Leage – all with a financial and time commitment that is very reasonable.
Should you play NYHL Select or GTHL Hockey?
That is a very personal decision for each family. We hear many comments that other than the increased cost & time commitments, that playing on A level hockey and lower level AA hockey teams can be very similar to higher tier select.
For Elite players, there is no question that higher end AA and AAA hockey is a very different stream.
The charts above are designed to provide new families to the hockey picture with a visual guide of the cost differences competition overlap.
One of the benefits of Select hockey is its tiered by competition level and Tiers are revisited 1/2 way through the season each year so there is less likely to be a team that spends a season not being able to compete.
In the GTHL, because there is no tiering, less competitive teams are more likely to struggle which can be a tough experience given the cost and time commitment.
At Mimico we are all about kids playing hockey and having fun. We look forward to cheering your player on in their enjoyment of the game whether at House League or Select.